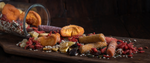 Dried Fruit & Seeds
Shop the Slivers Biltong & Nuts full range of dried fruit and seeds. Healthy dry fruits and mixed seeds serve as nutritious and healthy snacks. Add some dried mango, sunflower seeds and goji berries to your basket today! 
We guarantee our products!
EXCEPTIONAL IS OUR STANDARD
Slivers pride itself on delivering the tastiest, freshest quality products available. 
We guarantee all our products, provided they are still within the indicated "Best Before" date printed on the packaging of any product we supply.
Should you feel that the product you've received does not live up to your standards of excellent quality, we'll gladly exchange or refund your purchase, subject to our returns policy.