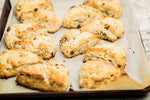 Dry Ingredients

3 cups all-purpose flour
⅔ cup granulated sugar, plus extra for dusting
1 tablespoon baking powder
1 teaspoon ground ginger
½ teaspoon salt
Butter 1½ sticks (12 tablespoons) cold unsalted butter, diced into small cubes

Mix-Ins
1 cup pecan halves, toasted and roughly chopped
½ cup raisins
½ cup candied ginger, diced small
Wet Ingredients
1 cup buttermilk, plus 1-2 tablespoons for brushing
1 teaspoon vanilla extract

Instructions

Preheat oven to 180C.
Mix dry ingredients in a large bowl. Whisk to combine. Use a pastry cutter (or your hands) to cut butter into the dry ingredients until a coarse meal forms. Stir in the mix-ins (pecans, raisins, candied ginger).
Stir the wet ingredients together, then add into the dry ingredients to form a wet clumpy dough. Drop this dough onto the counter.
Knead the dough JUST until it comes together. Do not over-mix. Form the dough into a ball. Cut the ball into two pieces. Form both pieces into discs, 6-7 inches in diameter. Cut each disc into 6 pieces, making 12 scones total.
Place scones onto a baking sheet lined with parchment paper. Brush with buttermilk (1-2 T) and sprinkle with sugar.
Bake on the middle rack (or upper ⅓ of the oven if you have a dark baking sheet) for 15-20 minutes or until the edges are golden brown and a toothpick inserted at the centre comes out clean.