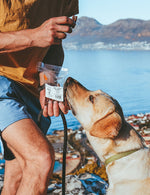 Take a Hike with Slivers
With lockdown restricting most leisure activities, South African's have found their way back to nature! 
Whether you love to go on a slow nature walk with the whole family, a brisk hike with your dog or a speedy trail run with friends, Slivers is here to fuel your adventures!
Fill your backpacks with quality padkos >> Shop here
Stock up on filling, energy boosting snacks to sustain your adventures.
The perfect snacks to take on your adventures are foods that are filling, high in energy and durable enough to survive in your backpack. Luckily all Slivers treats come in resealable packaging.
Dried Fruit is full of nutrients and energy and are much easier to take with on adventures than fresh fruit.
In place of biscuits or chocolate bars, nuts are the ideal adventure food to sustain your energy levels. Their high protein and fibre count makes them the perfect filling treat. They're also backpack friendly due to their small size (one handful per person is more than enough).
Lastly, don't forget to pack with a packet or two of drywors, chilli bites, snapstix or beef biltong to keep the moral high. The perfect snack to reward yourself with once you've reached the summit or viewpoint. 
Don't forget to stop and enjoy the view along the way. 
FREE DELIVERY for all online orders over R500.00.
We deliver across South Africa, straight to your door!