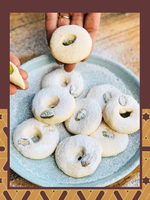 Treats Inspired by Sweet Eid
Eid al-Fitr is known as "Sweet Eid". It is a celebration that breaks a month long fast in the Muslim culture, bringing the holy month of Ramadan to an end.
Did you know that all Slivers Biltong & Nuts products are Halaal?
Below are just some of the delicious treats that are enjoyed during this time of celebration.
Boeber
A milky drink made from vermicelli and dates.
>> Shop Pitted Dates
Ghraybeh
Shortbread cookies made with pine nuts or almonds.
>> Shop Almonds
Ma'amoul
A beautifully decorated cookie made of dates and pistachios or walnuts.
>> Shop Walnuts and Pistachios
Sohan Asali

A kind of candy brittle made of honey, sugar, saffron and either almonds, cashews or pistachios.
>> Shop Cashews and Pistachios
From the Slivers Biltong & Nuts team,
we wish a blessed Eid to you and your family.