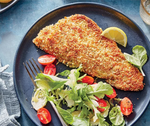 Serves 2 (serving size: 1 fillet)
Ingredients
2 tablespoons roughly chopped almonds
3 tablespoons whole-wheat bread crumbs
1 1/2 tablespoons fresh dill
1 tablespoon all-purpose flour
1 large egg, lightly beaten
2 skin-on trout fillets
1/2 teaspoon salt
1/2 teaspoon freshly ground black pepper
1 tablespoon canola oil
2 lemon wedges
How to Make It
Step 1
Preheat oven to 180C
Step 2
Place almonds, bread crumbs and 1 tablespoon dill in the bowl of a mini food processor; pulse until finely ground. Place almond mixture in a shallow dish. Place flour in a shallow dish. Place egg in a shallow dish.
Step 3
Sprinkle fillets with salt and pepper. Dredge in flour, shaking off excess. Dip in egg; dredge in almond mixture, pressing to adhere.
Step 4
Heat an ovenproof skillet over medium-high. Add oil to pan; swirl to coat. Add fillets to pan; cook 4 minutes or until browned. Turn fillets; place pan in the oven. Bake at 180C for 4 minutes or until fish flakes easily when tested with a fork. Sprinkle with remaining 1 1/2 teaspoons dill. Serve with lemon wedges.