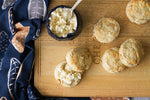 Ingredients
2 cups all-purpose flour
¾ cup whole wheat flour
⅓ cup sugar
1 tbsp baking powder
½ tsp salt
½ cup cold unsalted butter, cut into small cubes
1 cup chopped dried pears
½ cup chopped walnuts
1 cup buttermilk
5 tbsp heavy cream, divided
Instructions
Preheat oven to 200C. 
Line a large baking sheet with parchment paper, and set aside.
In a large mixing bowl, combine the flours, sugar, baking powder, and salt.
Cut in the cold butter until the mixture resembles coarse crumbs.
Stir in the dried pears and walnuts, then add the buttermilk and ¼ cup cream, and gently mix until the dough just barely comes together. (If the dough looks too dry, add more cream, 1 tbsp at a time, until the dough starts to come together.)
Turn the dough out onto a clean work surface lightly dusted with flour, and gently knead 5-6 times to finish incorporating any floury bits. Roll out the dough to 1" thick, and cut out the scones using a 1" round cutter, gathering up the scraps and re-rolling until you have 24 scones.
Arrange the scones on the prepared baking sheet. Brush the tops with remaining 1 tbsp cream.
Bake scones in preheated oven for 25-30 minutes, or until tops are golden brown and a toothpick inserted in the centre comes out clean.