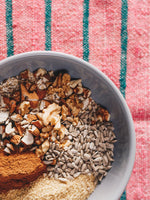 Immune Boosting Nuts & Seeds
In this time it is crucial to prioritise your health. One of the best ways to keep your immune system strong is to make healthy food choices.
Nuts and Seeds are a great way to ensure your body is getting enough antioxidants and vital nutrients in order to strengthen or maintain your immune system. Add them to your cereal, salads, smoothies, muffins or just eat them as snacks throughout the day.
Here is our Top Five Immune Boosting Nuts and Seeds that we recommend you add to your diet:
Sunflowers Seeds
These seeds are high in nutrients such as Magnesium, Vitamin B6 and Vitamin E. The fat soluble vitamin in sunflower seeds will boost the activity of immune cells in your body which help fight away any invading viruses.
Almonds
Almonds are high in Vitamin E which is a great antioxidant. This vitamin is crucial for maintaining your immune system functions. The natural fats in almonds help your body to absorb the Vitamin E, more so than other Vitamin E rich foods.
Brazil Nuts
These nuts contain the mineral Selenium which is known to improve your body's natural immunity. Selenium in Brazil Nuts also serve as a fierce antioxidant. 
Pumpkin Seeds
The Zinc in pumpkin seeds play a crucial role in the upkeep of your immune system. Dry fry them for your salads or sprinkle them in your cereal. 
Walnuts
Walnuts are known to be one of the world's top inflammatory foods. However they also hold a number of nutrients that aid in immunity support such as Vitamin E, Copper, Folate and Vitamin B6.
Boost your immune system today!!
Slivers products come in resealable packaging which is great for storage. Shop in store or online (we deliver Nationwide).