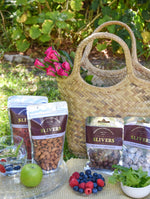 A Slivers Inspired Picnic
Slivers products are ideal picnic snacks because of there resealable packaging and free-standing design. With snacks ranging from delicious biltong to dried fruit, we have everything you need for an impromptu picnic date!
Shop our full range of Biltong & Drywors as your featured picnic snack and add a handful of Quality Nuts, a bowl of Dried Fruit and one or two mouth watering Sweets to complete your picnic spread.