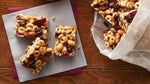 3 
cups trail mix (seeds, nuts, and dried fruits)
1/4 
cup butter or margarine
2 
tablespoons all-purpose flour
Steps
Grease 13x9-inch pan with shortening or cooking spray. In a large bowl, mix cereal and trail mix; set aside.
In 2-quart saucepan, melt butter over medium heat. Stir in brown sugar, flour, and corn syrup. Cook, stirring occasionally until mixture comes to a full boil. Boil 1 minute, stirring constantly.
Pour mixture evenly over cereal mixture; toss to coat. Press mixture in pan. Cool completely, about 30 minutes. Cut into 6 rows by 6 rows.