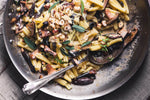 Prep Time: 30 minutes                    Servings: 4-6
Total Time: 30 minutes
Ingredients
20g dried wild mushrooms, any variety
1 cup heavy cream
350g pasta, any shape
4-5 cups fresh wild mushrooms, trimmed and sliced
3 Tbsp butter
1 large shallot, minced
3 cloves garlic, minced
fresh thyme leaves stripped from the stems, about 2 teaspoons or more to taste
fresh sage, chopped or thinly sliced, about 2 teaspoons or more to taste
1/3 cup Marsala wine (or other fortified or dry white wine)
1/2 cup grated Gruyere cheese (plus more for optional garnish)
1/3 cup chopped toasted hazelnuts
salt and fresh cracked black pepper
Instructions
Heat the cream to a simmer on the stove or in the microwave, then add the dried mushrooms. Make sure the mushrooms are submerged in the hot cream, cover, and set aside for 20 minutes while you continue cooking.
Cook the pasta until just al dente in plenty of well-salted water. Drain and keep warm.
While the pasta is cooking, saute your mushrooms, in batches, in a large skillet. You can saute them in butter or olive oil, or do it in a dry pan, which is my preference. Saute until they have begun to lose their moisture and are turning golden. Remove to a plate.
Add the butter to the same pan and saute the shallots. garlic, thyme, and sage over medium-low heat for several minutes until softened but not browned.
Add the Marsala to the pan and let it bubble down, stirring to scrape up any browned bits from the pan.
Strain the mushrooms from the cream and add the cream to the pan and swirl everything together. Bring up to a simmer and season with salt and pepper. Turn down the heat and stir in the cheese, just until it starts to melt.
Chop the hydrated mushrooms and add them to the pan along with the other mushrooms.
Add the pasta to the pan and give everything a good mix. If the pasta has cooled, bring it up to temperature.
Serve right away, garnished with the nuts, extra cheese if you like, and more fresh herbs.