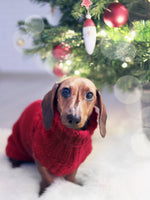 Do dogs like Biltong?
As if that was even a question ;) !!
Of course they do! In fact, your fur-children love biltong so much that we have created an entire Slivers Range just for them >> PET TREATS !!
Our domestic canine friends form part of the wolf-like Kingdom and are therefore no strangers to the natural instinct to hunt and eat raw meat. Our Pet-Friendly Biltong is made from ostrich meat and a pinch of salt and is safe and delicious for all dogs to enjoy. No added preservatives or flavourings.
The Tasty Reward
We all know there's no better motivator for effective training and good doggie behaviour than food.  Spoil him/her with our tasty chicken or dry wors rewards every time they are well behaved.
Dogs deserve Christmas presents too!
In the spirit of Christmas - buy your pets a treat and show them how much you care.