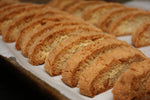 Serves: About 34 biscotti
Ingredients
2¼ cups all-purpose flour, plus more for the work surface
½ teaspoon baking powder
2 teaspoons ground ginger
1 teaspoon ground cinnamon
½ teaspoon ground cloves
½ teaspoon salt
½ cup butter, softened
¾ cup brown sugar, packed
2 large eggs
¼ cup molasses
1 cup macadamia nuts, coarsely chopped (on sale at Slivers today)
310g white chocolate chips
Instructions
Preheat the oven to 180 degrees. Line a baking sheet with parchment paper and set aside.
In a medium bowl, whisk together the flour, baking powder, spices, and salt. Set aside.
In a large bowl, beat the butter and sugar on medium speed with a hand mixer until light and fluffy, about 2-3 minutes. Add the eggs one at time, beating well after each addition, then beat in the molasses until incorporated. On low speed, beat in the flour mixture just until combined, then fold in the macadamia nuts.
Sprinkle flour on your work surface and turn the dough out onto it. Divide the dough in half and shape into 2 logs that are about 2" wide, and flatten the tops slightly. Place on the prepared baking sheet and bake about 30 minutes, or until the top is cracked and the dough looks dry. Remove from heat and cool for about 10 minutes.
Reduce the oven temperature to 135 degrees. Line a second baking sheet with parchment paper and arrange the oven racks to the top and bottom thirds of the oven.
Place the logs on a cutting board and using a serrated knife, slice the biscotti slightly on the bias into about ½" slices and place them cut side down onto the two prepared baking sheets. Place in the oven for 30-40 minutes or until dry and lightly browned, rotating the pans from top to bottom and front to back halfway through the baking time. Cool on wire racks.
Melt the white chocolate according to package instructions and set out a large sheet of waxed paper. Dip the biscotti in the melted chocolate or pipe decorative squiggles on top, and place on the waxed paper to set.
Store in an airtight container for up to 2 months.