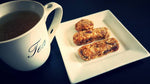 Ingredients

12 servings

200g Cashew nuts pieces
210g Unsweetened dates
Method
Grind the cashews in a food processor until fine powder. Add the dates and continue to blend until smooth. Combine the mixture in a bowl and mix it using hands to form a sticky paste.
Line a food container or a baking tin with cling film and press the mixture evenly. Refrigerate it for 1-2 hours.
Cut into bars. Cover the bars with greaseproof paper or cling film and store in an airtight container for upto 1 week.