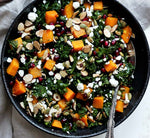 Serves 4
INGREDIENTS
1 butternut squash, peeled, deseeded and cut into chunks
1tbsp olive oil
2tbsp sunflower seeds - Available at Slivers
1tbsp sesame seeds - Available at Slivers
1tbsp linseeds - Available at Slivers
1 scant tbsp poppy seeds 
1 x 200g packet Feta cheese 
A generous handful of rocket
FOR THE DRESSING:
3tbs olive oil
1 tbsp balsamic vinegar
METHOD
Preheat the oven to 200C
Put the cubes of squash in a roasting tin, trickle over the oil and toss to coat, then roast them for about 25 minutes, until softened and starting to caramelise slightly around the edges. While the squash is roasting, toast the seeds.
Warm a heavy-bottomed frying pan over a medium heat, tip the 
sunflower, sesame and linseeds into the pan and cook them for a minute, moving them around constantly so they toast evenly and don't burn. Add the poppy seeds and continue to cook, rattling the pan, for a further minute until the seeds have taken on a little colour.
To make the dressing, whisk together the olive oil and balsamic vinegar. Arrange the roasted squash on a serving plate with the rocket, then sprinkle the seeds and crumble the feta over the top. Pour over the dressing and serve immediately.