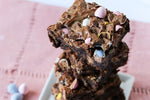 Speckled Egg Rocky Road
300g Speckled eggs (on sale today for only- 200g R40)
600g milk chocolate
180g mini marshmallows
300g Digestive Biscuits
Melt the chocolate. This can be done in the microwave or over a Bain-marie.
Put the Digestives into a large bowl and smash them up! I used the end of a rolling pin. You want to keep large pieces for extra crunch so don't go too mad at this point!
Add in the marshmallows and half of the Mini Eggs.
Pour over the melted chocolate and mix throughly. Push this into a lined 10 x 8 baking tin.
Top with the rest of the Mini Eggs. 
Leave to set in the fridge for 1-2 hours.